Trademark Protection, Management & IP Investigations – How to Effectively Navigate the Legal Landscape and Combat IPR infringements in China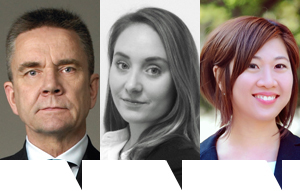 Join Sweden-China Trade Council on this breakfast meeting and learn from the experts who have on-the-ground experience in effectively protecting your brand and detecting and stopping IPR infringers in China.
A PRACTICAL TOOLKIT: Trademark Portfolio Management in China from a Brand Owner's Perspective

 – Ms Ai-Leen Lim, AWA Asia

ANTI-COUNTERFEITING IN CHINA: Detect and Bring the Perpetrator to Court – Mr Lars-Åke Severin, founder and CEO, PSU & Ms Hanna Severin, Office Manager and Senior Security Consultant, PSU Shanghai
We especially welcome professionals within the following sectors; Trademark Counsels, Marketing, Heads of IP and Brand Protection to this breakfast seminar.
Ms Ai-Leen Lim heads up AWA Asia's offices as CEO & Principal Counsel, managing its headquarters in Hong Kong and its wholly-owned Chinese IP consultancy in Beijing. She is admitted as an advocate and solicitor in Singapore, and is also qualified to practice in Hong Kong and the UK. She has been advising clients for over twenty years on IP portfolio management in China, Hong Kong and internationally, with a special focus on brand management and IP strategy. She is experienced in contentious and non-contentious trademark, design and patent registration, protection and enforcement matters and IP transactions, as well as advertising, consumer law, social media and related regulatory issues in conjunction with market entry and product promotion. Her client base ranges from IP rich fast-growing startups to Fortune 500 clients in relation to their IP protection and asset management issues, as well as commercial transactions involving IP assets (including IP audits, licensing, franchising and due diligence).
Mr Lars-Åke Severin is the founder and CEO of the leading Scandinavian Security Consultancy PSU. Lars-Åke has a background from the Swedish armed forces, the Swedish Police and Swedish Security Police (SÄPO). Lars-Åke founded PSU in China in 2006 and is one of the leading foreign experts on security management in China. Lars-Åke and his teams of consultant in Beijing and Shanghai are often engaged in IP related investigations, management support for critical reorganizations and operational challenges in a complicated environment. Lars-Åke is also the chairman of the Swedish Chamber of Commerce in China and director and member of the board of the Swedish industrial company Bulten (China).
Ms Hanna Severin is in charge of the PSU Shanghai office and is operationally responsible for Shanghai based counterfeit investigation and business intelligence projects. Hanna Severin holds a Bachelor in Criminology with a major in Sociology of Law' from the University of Lund, Sweden as well as a Master in Criminology. Her thesis "Counterfeit production, a legal and sociological study of the trade of counterfeit goods in China" was considered as one of the first within the area of Criminology in Sweden.
Where? Näringslivets Hus, Storgatan 19, Stockholm
When? Friday, April 27, 2018, at 07:45 – 10:00. Registration and breakfast from 07:45. Presentations starts at 08:10
Cost: SCTC Members SEK250, Non-members SEK400 excluding VAT to be invoiced after the event. No-shows will be fully invoiced. Please register not later than April 24.
Bookings are closed for this event.