Supply Chain Risks Connected to the Corporate Social Credit System
China's Corporate Social Credit System (CSCS) will be fully implemented by the end of this year. In December last year, Sweden-China Trade Council organized three successful events on the topic and we are now happy to follow-up with a webinar on November 12, covering the supply chain risks connected to CSCS.
All companies in China, local as well as foreign-owned, are included in the CSCS and has to comply with it's regulation. It comprises a diverse range of rating requirements, which form the basis for calculating regulatory ratings awarded to all market actors. Companies' behaviour will be continually monitored, with scores being adjusted accordingly. If businesses fail to clearly grasp all aspects of the CSCS and what they need to do to comply, they risk serious repercussions like sanctions or even blacklisting.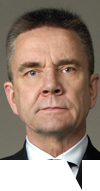 We have invited Lars-Åke Severin, founder and CEO, PSU China and Chairman, Swedish Chamber of Commerce in China, to address the challenges within your supply chains connected to CSCS.
The CSCS' intention is to improve governance efficiency and effectiveness. One objective is more data sharing and increased transparency from businesses to market regulators. It is also supposed to make supplier due diligence easier as well as how to assess a potential business partner.
So can we expect that with the system in place, many suppliers will likely find it hard to survive and others will thrive in business? How do you navigate the system with its claimed advantages but also with obvious risks?
When: Thursday, November 12, 2020 at 09:00 – 10:00
Where: Webinar. A link will be sent out ahead of the meeting to all registered participants.
Cost: This webinar is open to members of Sweden-China Trade Council and is free of charge.
Bookings are closed for this event.