Is China losing steam?
Lunch meeting with Mats Harborn in Stockholm in conjunction with Sweden-China Trade Council's Annual General Meeting May 26, 2016.
Media is full of conflicting reports about China. Business people see very different realities in China depending on industry and geography. The Chinese government is talking reform and yet it does not seem to engage in reform as urgently as needed. How do foreign companies navigate these treacherous waters?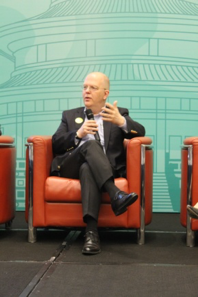 Mats Harborn was the first Scania representative in China and set up its first representative office in 1985. With a few exceptions, Mats has since then followed the economic development evolving in his various positions with both Scania, Svenska Handelsbanken and later the Swedish Embassy and Swedish Trade Council in China. Since 2003, Mats Harborn re-joined Scania and today he is Executive Director of the Scania China Strategic Centre, working with long term business development in China including legislation of the CV industry.
Between 2005 and 2013, Mats Harborn was Chairman of the Swedish Chamber of Commerce in China, and between 2013 and 2016, he has been active as Vice President of the EU Chamber of Commerce in China. Needless to say, Mats Harborn is fluent in Mandarin and has over the years delivered hundreds of lecturers on various aspects of transports and business life in China. He is also the author of a number of China-related articles and has had four books published in China.
We have asked Mats to give his take on today's developments in China and in particular the challenges and opportunities facing foreign enterprises operating on the Chinese market. The Swedish major enterprises have since decades had a stronghold in China, with some of these companies considering China as their most important market today. How can small and medium sized companies learn from these experiences and is it at all possible for a smaller company to become successful in China? In what way is the Swedish connection important, if at all? How important is the support from the Swedish government to succeed?
Where? Mannheimer Swartling, Norrlandsgatan 21, Stockholm
When? Thursday, May 26, 2016, 12:00 – 14:00, lunch will be served.
Cost: Free for SCTC members. Non-members will be invoiced SEK250 plus VAT.
Please register below not later than May 19. Please note that a separate registration is required for members attending the Annual General Meeting at 11:00 on May 26. For more information and registration for the Annual General Meeting, click here.
Welcome!
This event is fully booked.